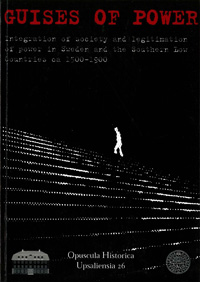 Guises of Power – Integration of Society and legitimation of power in Sweden and the Southern Low Countries ca 1500-1900
Åsa Karlsson (red.), Xavier Rousseaux (red.), Maria Ågren (red.)
Köp 110 kr
Understanding how power works has always been regarded as a central responsibility for researchers in the social sciences. To look upon the issue in a geographically comparative perspective provides important advantages because then the scope for explaining power increases considerably. To study power in a chronologically comparative perspective adds yet another dimension to the question, and must involve historians. This is the point of departure of this volume, which sets out to describe and analyse the working of power in different social contexts and at different times.
The authors do not, however, discuss just any social settings but focus explicitly on Sweden and the Southern Low Countries (present-day Belgium) in the early modern period.
This book is the reult of a co-operative project involving the department of history at Uppsala University and the department of history at Louvain-la-Neuve.