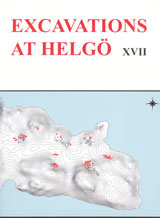 Excavations at Helgö XVII – Workshop, Part III
Lena Grandin, Eva Hjärthner-Holdar, Laila Kitzler Åhfeldt, Peter Kresten, Kristina Lamm, Jan Peder Lamm, Bente Magnus, Ole Stilborg, Anders Strinnholm, Anders Söderberg
Köp 265 kr
This volume is primarily devoted to archaeological discussion and scientific analysis of objects relating to Early Medieval metalworking at Helgö. It deals with the finds from the Building Group 3 workshop, same of which have already been printed, in various contexts, in Excavations at Helgö IV, V:1, VII-XI and XV. In addition, Excavations at Helgö XVII presents a new survey of all the building groups and cemeteries on Helgö. This is the first time that a true picture of the topography of the island, the relationship between its archaeological monuments and their correct location in accordance with the national grid has been achieved.
The craftsmen in the Building Group 3 workshop worked mainly in non-ferrous metals. Raw materials and finished and finished and unfinished products in gold, silver/white metal and copper alloy are here described and classified archaeologically. Same artefacts of copper alloy have also been scientifically analysed, with evaluation of analyses executed in the 1970s giving an added depth to that investigation. Crucibles and ceramic and stone cupels, 'metallurgical clay packages', and other items essential to non-ferrous metal working have been treated both archaeologically and scientifically, with a great deal of new and exciting information about the processes involved in manufacturing metal objects being reported. Ironworking, another craft practised in the workshop, has been discussed in earlier publications, but modern scientific methods have been employed to supplement this work and enhance our knowledge of the skill of the Helgö smiths.
Stone is not usually considered an essential part of metalworking equipment, but the detailed archaeological attention given to the lithic material from Helgö has revealed a surprising variety of stone tool-types used in the production of metal artefacts. This groundbreaking study has opened up an entirely new field of research, and is supplemented in this volume by articles on the uses of flint in metal-using societies and on the information that can be obtained by geological investigations.
To put Helgö in context, the partly contemporaneous metal workshop of Bäckby is here published fully for the first time. Its products are compared, both archaeologically and scientifically, with those from Helgö, and conclusions drawn about their similarities and differences.
A definitive catalogue of the non-ferrous metal objects round in Building Group 3 and a list of the remaining unpublished finds appear as appendixes, as does a concordance equating excavation find numbers with their registration numbers in the current SHM catalogue.