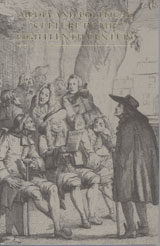 Media and Political Culture in the Eighteenth Century
Buy 212 SEK
The eighteenth century, in which the Royal Academy of Letters was created in Stockholm, was a time of intense political discussion. Concepts such as human rights and social equality were beginning to take shape in Europe and North America. Critical views spread through a variety of media which undermined the power structures of the Old Regime, gossip, newspapers, libels, memoirs, chroniques scandaleuses, engravings, etc.
When the Royal Academy of Letters celebrated its 250th anniversary in 2003, one of the events was a symposium in Stockholm entitled 'Media and Political Culture in the Eighteenth Century'. The present volume includes the contributions of the four keynote lecturers, John Brewer, Robert Darnton, Carla Hesse and Jean Sgard.
The British historian JOHN BREWER is currently Professor of Humanities and Social Sciences at California Institute of Technology.
The American scholar ROBERT DARNTON is Professor of European History at Princeton University.
The American scholar CARLA HESSE is Professor of History at the University of California, Berkeley.
The French press historian JEAN SGARD has been Professor of French Literature at the Université Stendhal in Grenoble 1969-1994.
The editor, MARIE-CHRISTINE SKUNCKE, is Professor of Comparative Literature at Uppsala University.