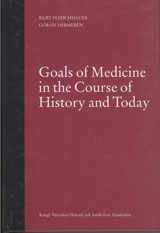 Goals of Medicine in the Course of History and Today
Buy 265 SEK
Some widely beliefs about the goals of medicine are: we know what they are, they have always been the same, and they do not conflict with each other. In this book all these beliefs are questioned. It will be shown that when trying to achieve the ends of medicine at different times old goals have changed and new ones appeared. Between different medical goals tensions and clashes exist which may cause difficult ethical problems.
Kurt Fleischhauer, born in 1929, is a medical doctor and emeritus professor of anatomy. He was from 1968 director of the Anatomical Institute of the University of Bonn. From 1985 to 1992, he was Rector (Vice-Chancellor) of Bonn University. He has numerous publications particularly on the histology and pharmacology of the central nervous system, and on general aspects of medicine.
Göran Hermerén, born in 1938, is a philosopher and emeritus professor of medical ethics at Lund University, Sweden. He is currently President of the European Group on Ethics in Science and New Technologies, Brussels, and involved in several EU-funded research projects. He has numerous publications, mainly on ethical problems in medicine, besides authoring and editing books on research ethics.
Extract from a review in Medicine, Health Care and Philosophy; A European Journal, volume 11, no. 2, June 2008: "In short, this is a book worth reading. It serves as a good starting point for those who wish to understand how ethical problems emerged in medicine, how they were conceptualized in different times and what is the state of affairs now in analyzing these issues." Jozsef Kovacs