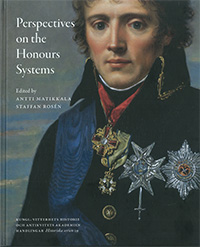 Perspectives on the Honours Systems – Proceedings of the symposiums Swedish and Russian Orders 1700-2000 & The Honour of Diplomacy
Staffan Rosén (ed.), Antti Matikkala (ed.)
Buy 330 SEK
Perspectives on the Honours Systems opens new multidisciplinary avenues for research on both historical and current methods by which monarchs, heads of state and governments have honoured individuals in different contexts, primarily in the Nordic countries and Russia. The essays are mostly based on papers given at the symposiums 'Swedish and Russian Orders 1700-2000: Systems – Traditions – Policies' (in Stockholm 2009) and 'The Honour of Diplomacy – The Diplomatic Use of the Honours Systems' (in Helsinki 2011).
The essays have been arranged in six thematic and broadly chronological parts. The first part analyses the foundation of the Swedish orders of knighthood and the background debates beginning in the 1690s. The second part looks at the orders of knighthood as instruments of diplomacy from the late Middle Ages mostly up to the Napoleonic period, while the third part approaches the material aspect of honours. The fourth part is chronological, concentrating on the first half of the twentieth century from the perspective of diplomacy as well as the wearing of orders and decorations. The fifth part, with emphasis on the Far East, discuss honorific contacts with Denmark and Russia. The sixth and last part describes the current diplomatic use of Finnish and Swedish orders as well as the Russian award system of today.
By taking a long perspective, 14 historians, archivists, museum curators, officers of orders and diplomats address fundamental questions related to honours: why honours systems have been established, what kind of role they have played in different historical situations and what is their current relevance in modern societies.
ANTTI MATIKKALA is a historian specializing in the honours systems. He was Fellow at the Helsinki Collegium for Advanced Studies, University of Helsinki, 2009-2012.
STAFFAN ROSÉN is Vice Chancellor and Secretary of the Swedish Royal Orders of Knighthood. He is retired Professor of Korean Studies at Stockholm University and a member of the Royal Swedish Academy of Letters, History and Antiquities.