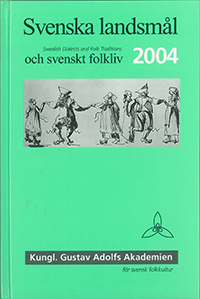 Svenska landsmål och svenskt folkliv 2004
Maj Reinhammar (ed.)
Buy 195 SEK
Tidskriften Svenska landsmål och svenskt folkliv utkommer med ett nummer om året. Den innehåller artiklar om svenska dialekter och, fast vanligen i något mindre utsträckning, svenskt folkliv. Artiklarna är som regel skrivna på svenska. Varje årgång innehåller också recensioner.
Svenska landsmål och svenskt folkliv grundades redan 1878 av professor J.A. Lundell. Tidskriften utges sedan årgång 120 (1997) av Kungl. Gustav Adolfs Akademien. Äldre årgångar kan inte beställas genom Akademien. I nedanstående förteckning återfinns endast de av Akademien utgivna årgångarna med däri ingående uppsatser.
Innehåll
Ahlgren, Perry: Ett bröllopsbrev på jämtska från 1700-talel. Dess författare och tillkomstmiljö.
Summary: An 18th century wedding invitation in Jämtland dialect. Its authorship and origins.
Berglund-Lake, Håkan: Brådska i brädgården. Om arbete och arbetsintensitet som funktion av levnadstvånget.
Summary: Haste in the timber yard: On labour and its intensity as a function of the instinct to survive.
Bringéus, Nils-Arvid: Julstugor och sommarlag.
Summary: Farm servants' merrymaking in 18th- and 19th-century in Skåne.
Edlund, Lars-Erik & Thelin, Eva: Aktuell litteratur om svenska dialekter.
Fridell, Staffan: »Giäsande Oos i Siöar och Myror». Betydelsevariation och etymologi för ordet os 'källdrag, strömdrag, vak, åmynning'.
Summary: 'Giäsande Oos i Siöar och Myror'. The etymology and varying meanings of the word os 'vein of water, curren
Ivars, Ann-Marie: Ena byxor och ena skitkarlar. Om flertal av en i finlandssvenska dialekter.
Summary: Ena byxor 'one pair of trousers' and ena skitkarlar 'real milksops'. On the plural of en in Finland-Swedish dialects.
Reinhammar, Maj: En jämtländsk 1700-talsdikt.
Summary: An 18th-century poem in Jämtland dialect.
Reinhammar, Maj: Rune Wästerlund 1931-2004.
Summary
Svanberg, Ingvar: Samiska växtnamn och folkbotaniska uppgifter hos Johan Turi.
Summary: Sami plant names and ethnobotanical information in the writings of Johan Turi.