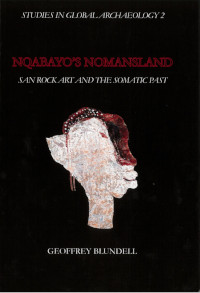 Nqabayo's nomansland – San Rock Art and the Somatic Past
Geoffrey Blundell
Buy 200 SEK
Published 2004
Isbn 9197321206
Type Paperback
204 pages
English
Although researchers have made advances in understanding the meanings behid southern African San rock art over the past 25 years, there are still many unresolved issues. The most significant of these concerns the manner in which rock paintings can be used in the construcion of San history. As there is only limited chronological control over the rock art, the inclusion of San imagery into history is necessarily a theoretical concern. While previous efforts to include the art in the writing of a past have included functionalist, structuralmarxist abd structuration approaches, in this work, it is argued that body and embodiment offer better theoretical tools for integrating the images into history.
These concepts are applied to newly discovered - and already known - rock painting sites from an area previously known as Nomansland, in South Africa. There are detailed historical records for this area that allow us to link these pictures to people and to known places of historical significance.
Although some of the material is well-known, this work presents new archival evidence and, for the first time in southern African archaeology, shows how this material is related to a richly painted landscape.
By drawing on new theoretical concerns, newly discovered images and new archival material, Nqabayo's Nomansland contributes to broader theoretical debates in southern African archaeology, anthropology, rock art research and history.