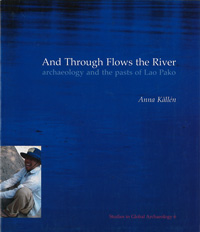 And Through Flows the River – archaeology and the pasts of Lao Pako
Anna Källén
Buy 200 SEK
Published 2004
Isbn 9197321249
Type Paperback
328 pages
English
This is a story about Lao Pako. Lao Pako is located on a small hill on the southern bank of the river Nam Ngum in central Laos. Four seasons of archaeological fieldwork have yielded considerable amounts of pottery, metallurgical remains, glass beads, stone artefacts, spindle whorls as well as other material and structural information that have created a foundation for interpretation. The archaeological interpretation presents Lao Pako as a place where people came to perform rituals c. 1500 years ago. In these rituals, sophisticated combinations of pottery depositions, infant burials and iron production produced a narrative about what it means to be in the world. Things in and on the ground created, and continue to create, non-verbal sentences about life and death, fertility, decay and worldly reproduction.
The archaeological interpretation is, however, not the only valid story about Lao Pako. This is a place where spirits are; it is also a tourist resort and a national treasure. These other stories all work to create Lao Pako as a place of interest and are used in this thesis to define the archaeological story, and to visualize the aims and agendas inherent in the production of archaeological knowledge.
Using the conceptual apparatus of postcolonial and other critical theory, the thesis aims to critically deconstruct the archaeology performed by the author and others. It entails an explicit critique of the deterministic temporal unilinearity that is inherent in the archaeological narrative of the evolution of humankind, as well as against essentialist notions of culture and the dissociation of the past as exotic otherness. Thus, the stories about Lao Pako demonstrate the need to critically revise the role of archaeology in a postcolonial world, and create archaeological stories by which we are touched, moved and disturbed, without resorting to imperialist notions of time and progress.