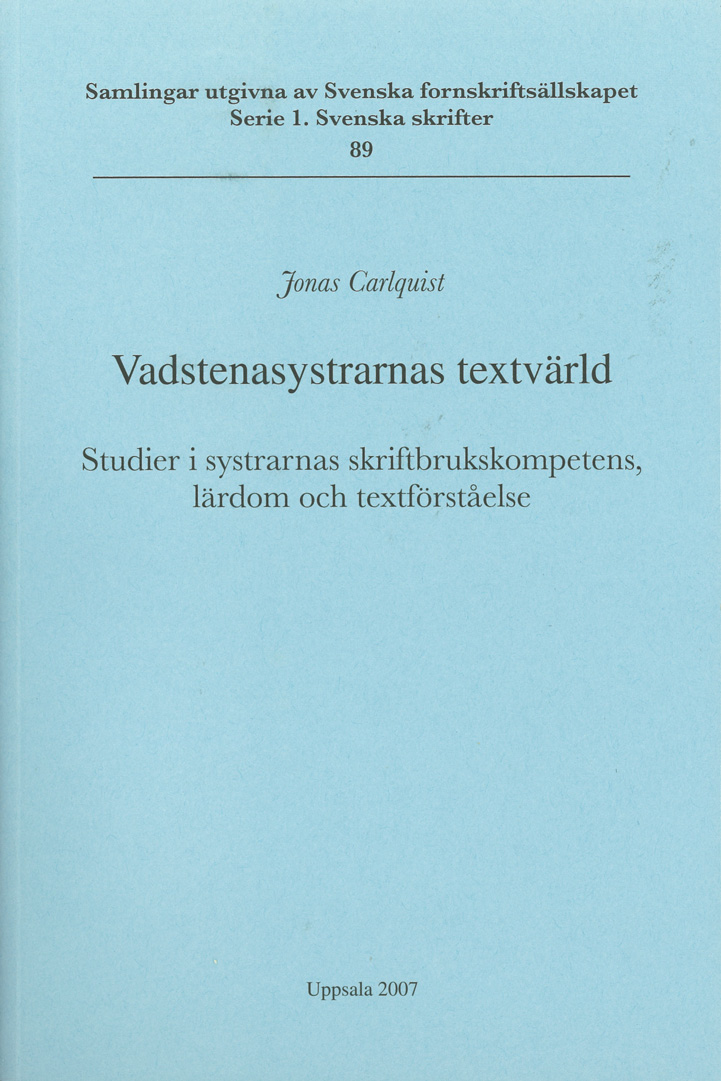 Vadstenasystrarnas textvärld – Studier i systrarnas skriftbrukskompetens, lärdom och textförståelse
Jonas Carlquist
Buy 200 SEK
Published 2007
Isbn 9789197611800
Type Paperback
414 pages
Swedish
The literacy and learning that can be attributed to the female convent at Vadstena Abbey have not been yet thoroughly investigated, a lacuna this book aims to remedy. Through an analysis of the social community and a close reading of the texts transmitted by Cod. Holm. A 3, a significant manuscript used in the convent for table reading, this study dis¬cusses the textual world that structured the nuns' life at Vadstena Abbey and thus attempts for the first time to take seriously the learning of the nuns of Vadstena.
The first part of the book deals with the literacy events that were significant for the female convent, then turns to the literacy competences that can be found among the nuns of Vadstena Abbey, and finally describes the form of education the sisters could receive. The convent was literate, in both a professional and a pragmatic perspective. Many nuns were able to read and write in vernacular, some also in Latin. If only occasional examples of literate women at the convent are known before 1450, it appears that the literacy competence then increased signific¬antly, a situation which suggests that the nuns may have learned to read and eventually to write in the monastery under the supervision of a mentor.
The learning of the nuns was marked by the mystical movement of the second half of the 15th century. This can be shown by an analysis not only of the works the sisters read but also of the textual structure of the monastic readings at the female convent. The auctoritates quoted in these texts taught the nuns in exegetical questions and ideological issues im¬portant for the Birgittines. Knowledge of the monastic virtues was of considerable importance in this education, especially humility which was explored in nearly all texts read in the convent.
The second part of the book offers a close reading of a table reading manuscript which was produced in the beginning of the 16th century. This manuscript proved to be very important for the nunnery's intellectual context as the daily read¬ings during the meals were an opportu¬nity for the monastery to emphasize ideologies and beliefs that the nuns should support. The table readings followed an old ritual as many of the texts that should be read were copied from older manuscripts. But notwithstanding their textual tradition, the texts to be preferred were obviously didactic and intended to educate the nuns. These texts must be seen as a bridge between the beliefs of the collectivity and the nuns' private worshipping. There is in these texts a meditative tone which concurred to place the concrete daily routines and duties into an abstract Christological frame.
Språk i boken: svenska