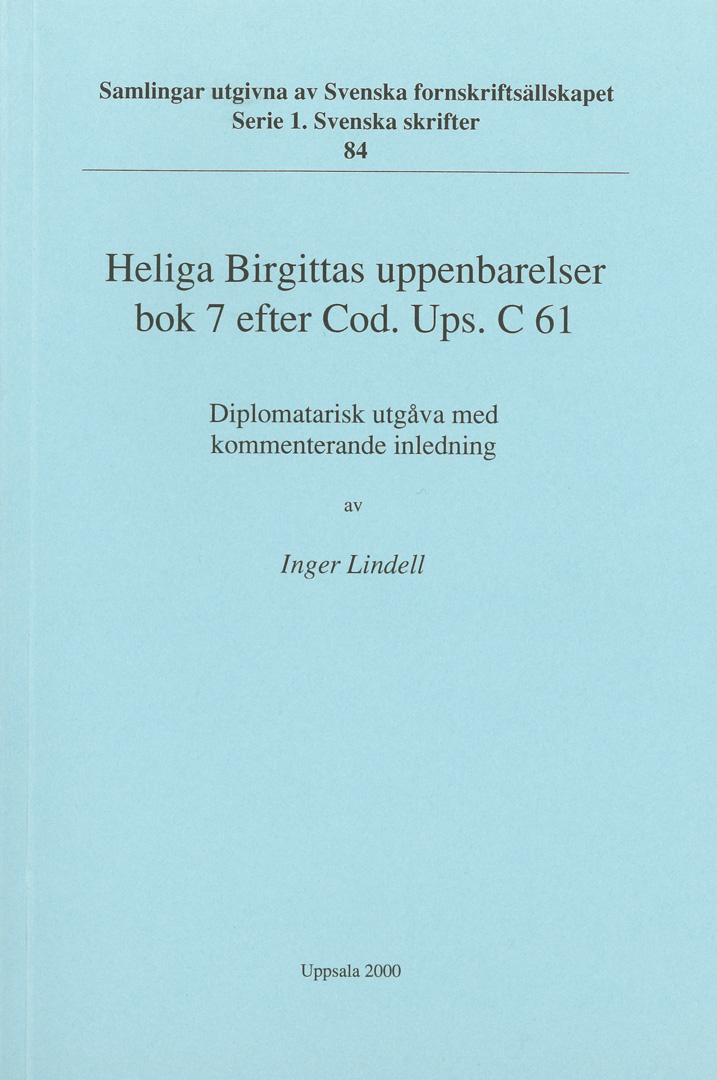 Heliga Birgittas uppenbarelser bok 7 efter Cod. Ups. C 61 – Diplomatarisk utgåva med kommenterade inledning av Inger Lindell
Inger Lindell
Buy 200 SEK
Published 2000
Isbn 919738030x
Type Paperback
239 pages
Swedish
This dissertation contains a diplomatic edition of Book VII of St Birgitta's Revelations from the Uppsala MS C 61. Book VII was written at the beginning of the 16th centuary, but its language reflects an earlier textual stage. The edition sheds light on the language of one of our earliest Old Swedish translations. A codicological description with the aim of providing information about the manuscript itself and the manuscript production has been added to the edition.
The Brigittine texts are often multilayered and complicated. The Old Swedish versions are primarily retranslations from Latin. A number of texts were revised in a similar manner at Vadstena monastery between approximately 1400 and 1420. Many Brigittine texts display characteristics of an earlier textual stage in their language. Differences within comparable parallel texts between the older and the younger textual stages are indicative of a conscious linguistic revision. For this reason, the dissertation also comprises an account of the linguistic variations between manuscripts from different textual stages. By comparing the text in MS Ups. C 61 with that of the revised version of MS Holm. A Sa, which represents a younger textual stage, the nature of the linguistic revision has been demonstrated. The linguistic revision has primarily affected the lexical level: single words have been added to the text, doublets have been created, and words have been changed throughout the manuscript. The linguistic revision has also affected the syntactic level, albeit to a lesser extent.
Keywords: diplomatic edition, Birgitta's Revelations, Book VII, MS Ups. C 61, MS Holm. A Sa, codicological description, linguistic revision.
Språk i boken: svenska