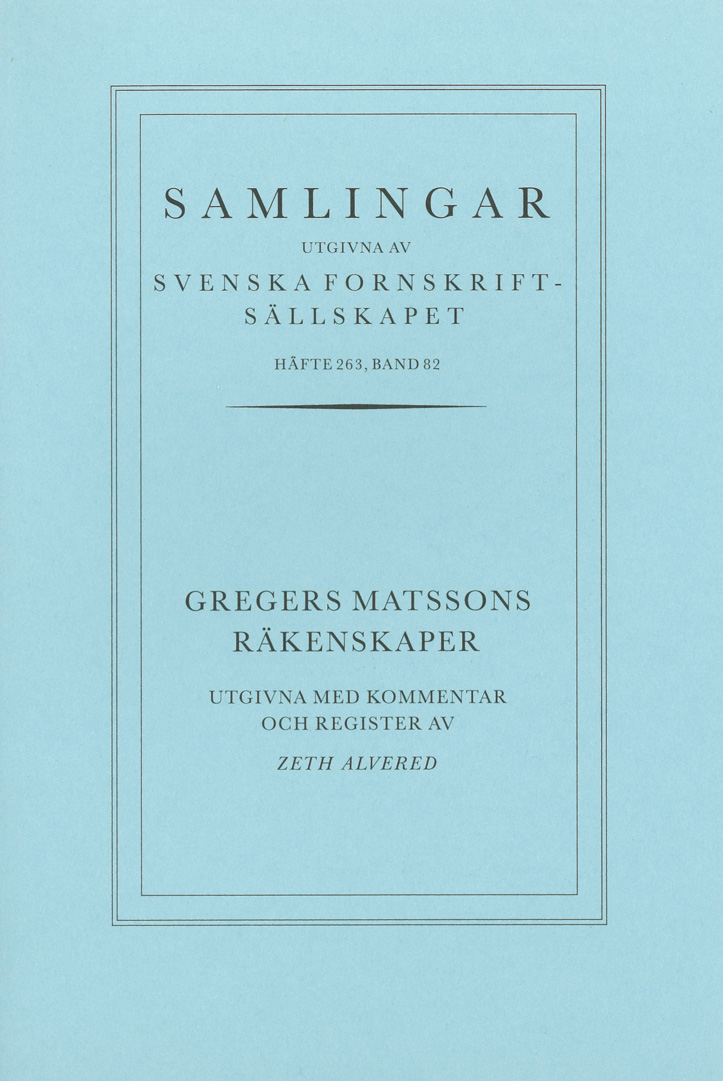 Gregers Matssons räkenskaper – Utgivna med kommentar och register av Zeth Alvered
Zeth Alvered
Buy 150 SEK
Published 1996
Isbn 9197174580
Type Paperback
237 pages
Swedish
Roughly half of the pages of this dissertation constitute a critical edition of the late medieval nobleman Gregers Matsson's account books, C 29-32 in the National Record Office (Riksarkivet), Stockholm. About 80 % of the material is assumed, on grounds of linguistic evidence and content, to have been written by Gregers himself, and his entire known production written in his own hand is included in this edition, with the exception of a few lines in the previously published Upplands lagmansdombok (Upplandic Chief Magistrate's Judgment Book), lines which can now be seen as having been identified.
The philological edition is accompanied by a commentary and registers of individuals, places, and words. These registers should enhance the usefulness of the edition, not least for other disciplines, perhaps history in particular. The commentary takes up interesting linguistic features of the 14 different hands, with the emphasis on the hand that is believed to be that of Gregers Matsson himself. Other subjects of introductions and commentaries include the genre of medieval accounting; scribes and their handwriting; the physical appearance of the manuscripts; measures, weights, and coinage; and words of special semantic interest. The edition is illustrated with an appendix of 15 photographs showing samples of the different hands and the covers of the volumes.
Keywords: philology, transcription, analysis of handwriting, Old Swedish, epenthetic vowels, delabialization, medieval accounts, Tyresi:i, Stegeborg.
Språk i boken: svenska