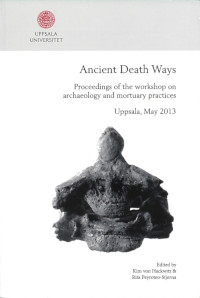 Ancient Death Ways – Proceedings of the workshop on archaeology and mortuary practices
Kim von Hackwitz, Rita Peyroteo-Stjerna
Köp 200 kr
Publicerad 2015
Isbn 9789150624465
Typ Häftad
199 sidor
Engelska
Ancient Death Ways - proceedings of the workshop on archaeology and mortuary practices, contains articles of the work in progress presented and discussed at the Ancient Death Ways 2013 meeting, which was organised around three main themes: current research, landscapes of death, and defining death.
The diversity of case studies and subjects tackled by the participants reflects the richness of the field of archaeological research concerning death studies. This book does not aim to be a treaty on the archaeology of death in 2013, but rather a straightforward outcome of the sessions. The series of eight articles is introduced and closed by two commentary essays from two of the moderators of the workshop.
The editors are archaeologists with research experience in the field of mortuary practices, at the Department of Archaeology and Ancient History, Uppsala University.
Contributors: Anne Birgitte Gebauer, Kim von Hackwitz, Asa M. Larsson, Karl-Johan Lindholm, Malin Masterton, Milton Nunez, Terje Oestigaard, Rita Peyroteo-Stjerna, Rick J. Schulting, Mari Torv, Paul Wallin