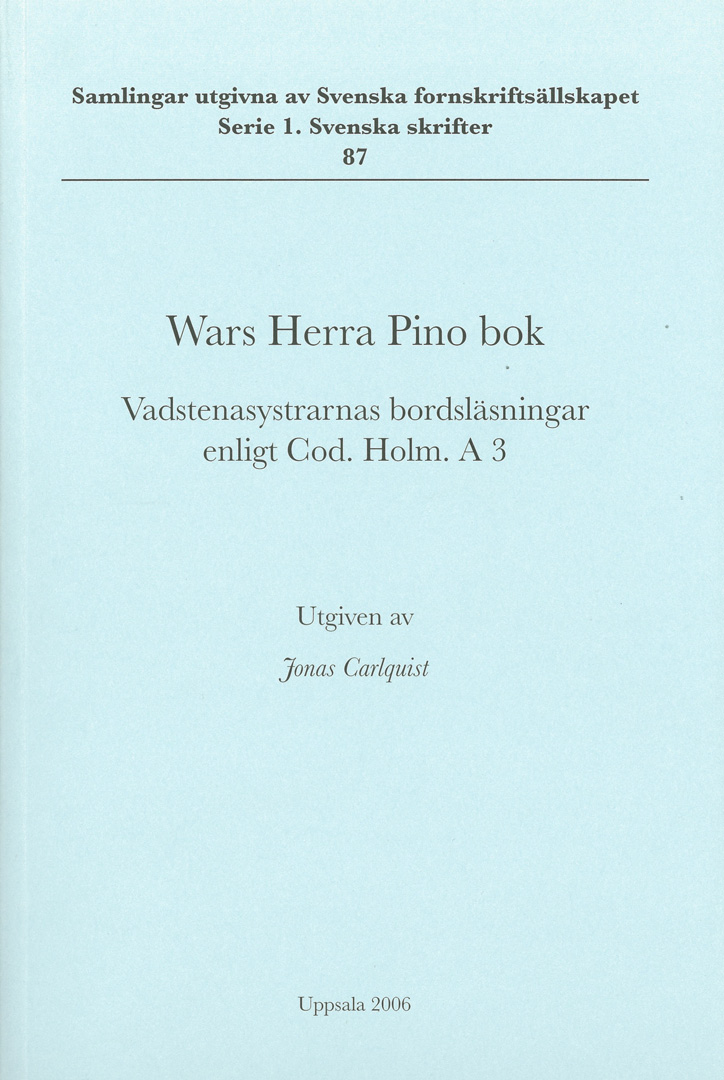 Wars Herra Pino bok – Vadstenasystrarnas bordsläsningar enligt Cod. Holm. A 3
Jonas Carlquist
Buy 200 SEK
Published 2006
Isbn 9197380385
Type Paperback
312 pages
Swedish
This book is an edition of Cod. Holm. A 3, a manuscript from Vadstena abbey containing the Birgittine sisters' official table readings in Old Swedish, i.e., official text to be read aloud during meal time at the sisters' convent. The manuscript is dated 1502 according to its prologue, and is written by four different hands. The main scribes are known by their names, Katharina Gudhmundi and Anna Girmundi (both were nuns in the abbey). Maybe one of the anonymous hands may be the manuscript's corrector, Elseby Gjordsdotter. The manuscript was commissioned by the abbess Anna Fickesdotter.
The manuscript, composed of 156 parchment leaves written on two columnist, contains 98 different texts, complete or partial, of devotion, such as Saint Birgitta's Revelations, commentaries on the Bible, Old Swedish translations of the well-known mystics Henrik Suso and Mechthild of Hacke born, Saints lives and the like. Most of the texts are copied from older manuscripts that were owned by the sisters' convent at Vadstena abbey. The introduction to this edition provides a codicological description of the manuscript together with a presentation of its content.
The edition itself follows the manuscript as close as possible. To each folio and each line of the manuscript corresponds a page and a line in the edition. In addition the medieval interpunctuation is edited and the text is not normalised.
The text is completed by a critical apparatus which supplies the following information: scribal mistakes, identification of the citations of the Bible and the auctoritates, detailed codicological information, variant readings from other manuscripts containing the same texts as Cod. Holm. A 3.
Keywords: Old Swedish, Vadstena abbey, table readings, devotional literature, manuscripts, codicology.
Språk i boken: svenska